Artic Air Express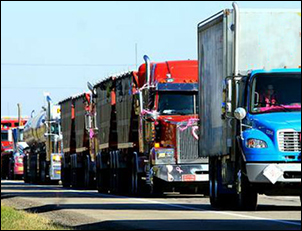 As the owner and president of Artic Air Express, Inc. , I have been a customer of Permit Services for over 30 years. The service they provide the trucking industry is second to none. They have made my job as a business owner so much easier. Their staff is dedicated, professional, and always a step ahead of any situation. They take great care when dealing with you as a customer and have become friends as well. If you are in the trucking business and are looking for someone to take care of a variety of tasks, look no further than Permit Services. You will be so glad you did!
Johnsonville Trucking, LLC
Our business relationship of 20+ years has seen continual growth and changes in regulatory and compliance needs. Together we have implemented the necessary actions resulting in successful operations, while promoting Safety and Compliance.
Andretti Autosport
On our racing team, there is constant change in where we are going and what we are doing. The Permit Services team goes above and beyond the call of duty to ensure we are in compliance. It has been our extreme pleasure to work with them for so many years.
Moser Trucking Inc
Transportation is like a revolving door – it never stops working. Our business relationship of two years has grown in many positive ways. Transportation has seen consistent changes across the whole industry. The professional team at Permit Services can handle anything you may throw their way. Moser Trucking Inc. has gained more knowledge of industry changes and regulations, and just a better understanding on how your business can make everyday activities a simple walk through the park. Permit Services is great option to keep your business rolling on down the open road for many, many years to come.

Waupaca Northwoods, LLC
The group at Permit Services is truly a life saver. No matter what I send their way, they get it handled and always very professionally and prompt. They always go above and beyond to make sure that we stay in compliance. It is always a pleasure to work with them and I could not ask for a better group to work with.
Faulks Bros. Construction, Inc.
Permit Services puts customer service first. We make one phone call and the team at Permit Services does not leave the phone call until everything is answered and clarified. They get the right person to respond with accurate and current information. They are always there to help, experts in their field, and their knowledge and support is an arsenal to any company.
DQ Trucking, LLC
Permit Services, LTD went above and beyond from helping get my authority and credentials, to helping prepare me for the DOT New Entrant Audit. Each and every time I call them for help, they answer, and they get me the information I need. I'm so busy driving, I really need their help with DOT compliance.
So Low Trucking, LLC
Permit Services provided my company with timely and personal service. Darin is always available to answer any questions you have as you navigate the sometimes confusing process of getting your own authority. I highly recommend them to anyone looking for help with getting their own authority.